Announcements
SEPTEMBER CHALLENGE
HOLLOW AND ARCH HOLDS
—–NO ANGELS—–
Beginning of Class
Week 1- :30 Sec Hollow hold :30 Sec Arch hold
Week 2- :45 Sec Hollow hold :45 Sec Arch hold
Week 3- 1:00 Hollow hold 1:00 Arch hold
Week 4-1:30 Hollow hold 1:30 Arch hold
The Hollow and Arch are the foundation to gymnastics movements. ( Handstands, Pull Ups, Kipping Pull Ups, Muscle Ups)They require CORE to EXTREMITY strength and MIND to MUSCLE connections which are the building blocks for for everything else we do.
Hub City CrossFit – CrossFit
Warm-up
Warm-up (No Measure)
1 Round:

:30 Wrist Stretch

10 Self Hugs

10 PVC Pass Thru's

10 Lateral Lunges

10 Bend and Bow

10 Thumbbell Thrusters

10 Jumping Jacks

10 Beat Swings

10 Push Ups

10 Crab Ups
Then warm up the movements you need.
Metcon
9/11 MEMORIAL WOD
Today is a day in which we are called to remember the heroic sacrifice of those involved in the attacks on our nation on September 11, 2001. Although to some a workout may seem like a small way to honor those who gave their lives on this day, it is a gesture in which we remember and honor all those who died on this day and in service to others. It is a way in which we put our brief discomforts aside, using them as a way to honor those who can no longer be with us. It's a way that our Hub City CrossFit family can come together and honor some of our Nation's heroes. Be sure to give a special thanks to all of our HCCF members and families who serve as firefighters, police officers, and in our armed services.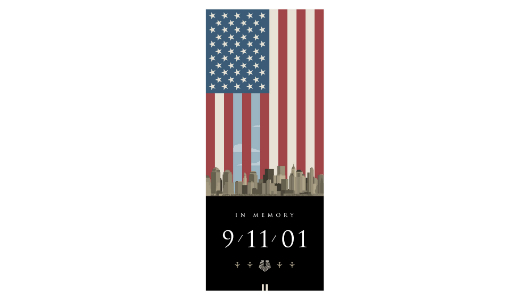 Metcon (Time)
9/11 Memorial WOD

2001m Run (1.25 Miles)

11 Box Jumps 30/24

11 Thrusters 125/85

11 Burpee Chest 2 Bar

11 Power Cleans 175/120

11 Handstand Push Ups

11 American Kettlebell Swings 70/53

11 Toes 2 Bar

11 Deadlifts 175/120

11 Push Jerks 110/75

2001m Row
If athletes begin the WOD with a Row, they finish with a Run and vice versa.
RX+: 20lb Weight Vest
* The WOD itself is completely symbolic of 9/11.
– The 2001m row represents the year the attack took place
– The 11 reps of 9 exercises represents the date
– The 125lb thrusters represent the number of deaths that occurred at the Pentagon
– The 175lb PC and DL symbolizes the AA Flight 175 that hit the South Tower
– The 110b push press represents the number of floors in each tower of the World Trade Center